Rippa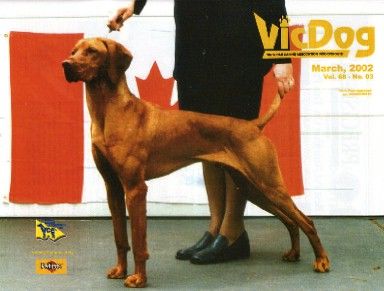 Our Canadian born boy is the proud sire of
Australian, American, Canadian and New Zealand Champions.
More details on him and our other dogs can be found on the "Our Vizslas" page.

Date of Birth: 8th January 2001, British Columbia, Canada
Registration Number: LA706021
Breeders: B and H Brinkworth, Piroska Vizslas, Canada
Owners: M and S Stuart, Abbiestar Vizslas, Australia


Rippa is an outstanding Vizsla of international renown. He is a much sought after sire that has produced Conformation Champions in Australia, Canada, The United States of America, and New Zealand. He comes from strong working lines that also showcase the working ability of the Vizsla. His direct ancestry boasts Vizslas titled in conformation, obedience, agility, hunting, tracking, temperament testing and canine good neighbours.
Rippa himself carries a Canadian conformation championship title, Canadian Canine Good Citizen's title and an Australian Endurance Test title.




This outstanding Vizsla has produced more champions in more countries than any Vizsla imported into Australia.

Canadian Champion Piroska Sunfire of Abbiestar CGC ET (import Canada)
AVA Hip Score: 2:2
AVA Elbow Score: 0:0
PennHip Score: 90th Percentile

Stud Fee: N/A
Sadly, Rippa died on November 26, 2014.
This page remains as a tribute to him in acknowledgement of
his outstanding contribution to the breed, and to Abbiestar.
Contact Details
Michael & Sandra Stuart
Melbourne, VIC, Australia
Phone : 0407887553
Email :
[email protected]